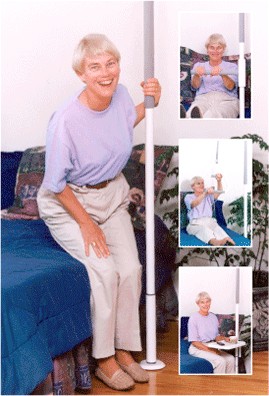 The HealthCraft SuperPole™ System is an award winning modular support system designed for physically challenged users who require assistance with standing, transferring, or moving in bed, in the bathroom, or anywhere else in the house. The floor-to-ceiling bar is sturdy, comfort-grip padded, and stylish - featuring a heavy-duty baked powder coat glossy white enamel finish. It is tension-mounted against the floor and ceiling, requiring no expensive installation to damage your home. Our regular model is designed for users up to 250 lbs., and our Bariatric model supports up to 450 lbs. safely.

SuperPole™ Add-On Assistive Accessories
(click each for details & Photos):

    • SuperBar™ - Adjustable Pivot & Lock Horizontal Bar
    • SuperTrapeze™ - Adjustable Offset Assistive Trapeze
    • SuperTray™ - Adjustable Tray
    • SuperPole™ Safety Island - Assistive Island With Rail

With it's high-quality construction, versatile add-on assistive accessories, easy installation and affordable price, the SuperPole™ is one of the best home transfer aids on the planet, for people who need a little or a lot of transfer assistance. They are also comaptible with our toileting aids and accessories.