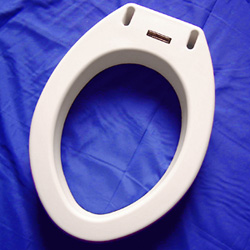 A high-quality fixed toilet seat riser that safely raises your toilet seat 3" higher. The fixed riser comes with heavy-duty 300-series steel replacement bolts for your drop-in style toilet seat (if your seat does not support replacement bolts, we can suggest a new seat within your price range), which easily and securely attaches the seat and riser to the toilet. Rubber pads on the bottom add to the stability of the riser. Convneient wing-nuts secure the bolts, and can be easily loosened for periodic cleaning under and behind the riser. This is an excellent aid for physically challenged users who need assistance transfering on and off of the commode from a study and secure riser.

Compatible with many of our Solution ComfortSeat&reg Toileting Aids (SCS-100, SCS-105, SCS-125, and SCS-130) and certain Bathroom Accessories. Please click here to contact us, or call us toll-free at

for details.



SCS-25 Features:
    • Raises Seat 3" Higher
    • High Quality Design - Securely Bolts To Toilet
    • Easy To Install & Maintain - Resists Stains & Microbial Growth
    • Supports Large Users Up To 400 lbs.
    • 12 Month Warranty

We also have a heavy-duty 3" hinged toilet seat riser available, which allows you to easily lift the seat and riser for quick cleaning.