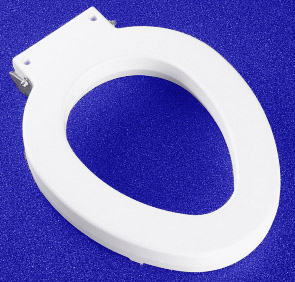 A high-quality hinged toilet seat riser that safely raises your toilet seat 3" higher (the user sits 3.5" ~ 4" higher, depending on seat height). The hinged riser bolts onto your commode with heavy-duty steel fixtures, and then you bolt your toilet seat to the riser [click to see PDF instructions]. The seat and riser can both be lifted open, for easy cleaning and maintenance. This is an excellent aid for physically challenged users who need assistance transfering on and off of the commode from a study and secure riser.

Only compatible with our EZ Warm Wash Toileting Aid, and certain Bathroom Accessories. Please click here to contact us, or call us toll-free at

for compatiblity details.



SCS-53 Features:
    • High Quality Design
    • Raises Seat 3" Higher
    • Hinged to Allow For Easier Cleaning
    • Supports Up To 500 lbs., with a sturdy seat
    • 12 Month Warranty

We also have less-expensive fixed-position seat risers available, which is compatible with more of our unit models.